Nilin Cartier-Wells
Talk

0
168pages on
this wiki
Redirected from Nilin
Nilin Cartier-Wells is the daughter of Scylla and Charles Cartier-Wells. Nilin belongs to the group of underground activists known as the Errorists. A former Memory hunter, Nilin is gifted with the ability to enter people's minds with her Sensen Glove and steal or alter their memories, an ability she learned from her father.
Biography
Early Life
Nilin Cartier-Wells is the estranged daughter of Scylla and Charles Cartier-Wells, the corporate leaders of Memorize. While she was young, she accidentally caused her mother to have a car accident on her birthday, which Scylla blames her for entirely.
Nilin the Memory Hunter
Capture
The game begins with her waking up in the Bastille prison in Paris, as she has no memory of what is going on. The authorities, fearful of her knowledge and capabilities have arrested Nilin and wiped her memory clean. She is soon rescued with the guidance of a mysterious character named Edge, putting herself into a coffin and landing in Slum Sector 404.
Regaining her Memories
After her escape from prison, Nilin sets our on a mission to recover her identity, helped by Edge. This search for her past leads to her be hunted by the very people that created this surveillance society. During the course of the story, Nilin will start remembering who she was and re-learning all the skills that made her one of the Errorists' leading memory hunters.
Personality
Nilin is rather sarcastic, as seen when she makes comments, puns, and jokes throughout the game (Responding to Trace's taunting with "This Little Red Riding Hood's got a basket full of kick-ass!"). She is also rebellious and tends to talk back, most often to Edge when communicating during missions, displaying her cautiousness in trusting him. As the story progresses, she develops guilt, as seen when recollecting her murder of Frank Forlan, and restraint, particularly when interacting with her family.
Abilities
Nilin is a capable and versatile martial artist. Following her escape from the Bastille prison, she recalls only basic combat moves, which she uses to fight the Leapers in Slum 404. As time progresses, memories of more advanced techniques return to her.
Nilin's other abilities also revolve around her Sensen implant. She is able affect her surrounding environment through different tools that can be obtained from foes or recalled as her memory gradually returns. While the combat uses of the Sensen are practical, the remixing capability is controversial. A large part of the controversy stems from the fact that memory alteration has been a key tool involved in several crimes, including murder.
Nilin is also an experienced climber and uses this skill to traverse various structures to reach her goals.
Development
Nilin was conceived by
Jean-Maxime Moris
, the creative director of
Remember Me
. When asked in an interview why the team took the decision to make the protagonist of the game a woman, Moris stated: "It was not a decision. It was something that just felt right from the beginning. It's one of those things that we never looked at from a pure, cold marketing perspective because that would have endangered the consistency of the whole game." He also stated that he wanted to portray Nilin's private and romantic life at one point, and that making the character male might also entail making him
gay
, which would have presented its own problems.
[2]
Another reason behind the character's gender was that they were building the story to be "much more about emotion, intimacy, identity, and the way technology would intersect those." This was designed to contrast with the traditional cyberpunk theme of transhumanism, so that it "just felt like the other side of the coin, the yin and the yang, and it just made sense to us that it would be a female character."[3] The creators wanted Nilin to stand out, so they crafted her as having a mixed ethnic origin. This meant that the character was difficult to market, as many publishers felt that a mixed race, female character would not sell as well as the stereotypical male protagonist.[4][5]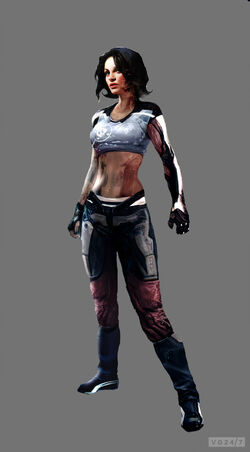 Michel Koch, the game's so-art director, said that the team wished to "create a believable character grounded in the now, but with the addition of strong sci-fi and cyberpunk characteristics. We wanted her to feel real and slightly casual, so [the team] tried to avoid as much as we could the overly sexy approach." This resolution made the character problematic to design, as many early designs seemed too unrealistic. He also admitted that Nilin shared superficial similarities with Lisbeth Salander, the main protagonist of Stieg Larsson's Millennium series. He stated that the team wanted to take a similar approach, wishing to make Nilin a strong, independent character.[6]
The character went through several redesigns during the game's development. While Remember Me still revolved around the idea of global warming, she was dressed in a transparent cape similar to costumes seen in Blade Runner. As the game's theme changed to one of memory, the design also changed. The second main iteration of Nilin's design was designed to look more like a spy, including carrying a briefcase. A third design was created later on, but was considered too close to the character designs in the Mass Effect series. Her final design was meant to reflect a realistic evolution of then-current styles, such as including a leather jacket and jeans.[7][5]
Nilin is voiced by Welsh actress Kezia Burrows. When people took to forums online criticizing her performance at the game's reveal, Moris commented that "I don't mind the criticism. It's constructive and I definitely listen to it." He decided to use the feedback to judge how the performance could be refined.[8] The game's composer, Olivier Deriviere, created multiple musical themes for Nilin, designing each track so as to include cues related to her. The theme that actually bore her name, 'Nilin the Memory Hunter', was scattered in pieces throughout the game's score, mirroring Nilin's journey to recover and restore her memory.[9][5]
Character Reception
Positive
Nilin has received mixed reviews from gaming sites. The review for Edge was very positive, calling Nilin "a powerhouse of a protagonist, instantly likable and remaining self-aware throughout. She's a beguiling mix of strength and sensitivity, sarcasm and fire, external certainty and internal conflict, despite a few cheesy lines and missteps."[10] Game Informer's Ben Reeves called Nilin "a capable warrior and memory hunter", but stated that she "[didn't] to have much of a personality of her own".[11] GameTrailers' Justin Speer commented that Nilin "treats the insanity of the world around her with unwavering seriousness."[12] Polygon's Arthur Gies called Nilin one of Remember Mes "greatest strengths".[13] Gamespot's Kevin VanOrd cited the character as the most memorable section of the game, calling her resolute, conflicted, and all too human, making her a terrific escort through this beautiful and underutilized world." He also praised Burrow's performance in the role.[14] Eurogamer's Tomb Bramwell called Nilin a "compelling lead", saying that despite rough writing "whenever the game takes her out of a fight and has her fiddling with memories or talking to grown-ups, there's a good bit of heart and pathos."[15] In an article concerning her, Kotaku's Evan Narcisse praised the fact that Nilin did not have racial stereotypes attached to her character, and that her quest in the game was not driven by an ethnic-derived social situation.[16][5]
Negative
In contrast, VideoGamer.com's Nick Akerman was highly critical of Nilin's role in the game, saying that she was a "damsel in distress and sacrificial lamb for a greater good that will only aid a capitalistic dystopia produced by the science of men. It's a step back for females in games, as while deemed capable enough of fighting against France's underbelly, Nilin does so in a narrative that is apparently beyond her intellectual capability; even though she's shown to be more than smart enough to work it all out."[17] Destructoid's Jim Sterling was also quite critical, calling her "as bad as, if not worse, than many of the villains", and finding her unexplored darker side in the face of her heroic portrayal "immensely troubling."[18] Complex called Nilin "one of the most poorly written characters of the year (whom in very Crofitan fashion does an emotional 180 from simpering victim to inexorable killing machine in about five minutes)."[19] Brenna Hillier of VG247, in an article concerning the character as a whole, praised the idea behind Nilin and the potential for the game to break many conventions surrounding female characters in the medium. However she also felt that the character was let down by the expectations of the industry and much of what was done to promote the game and character, and that following a man's instructions throughout much of the game weakened her independent image.[20][5]
Gallery
Trivia
Notes
↑ CVG: Remember Me's lead character is a mixed-race female, which stands out against the crowd of white male heroes. There's a sense that publishers attach risk to anything other than white male leads. At any stage in development, did you feel you needed to change the lead character's appearance?
Jean-Maxime Moris: No, we wanted Nilin to stand out. I think these sort of issues become self-fulfilling prophesies; people saying that only white males sell so then everyone only does white males. If you start believing these things, you get your head inside this cold marketing strategy that you cannot get your head around. It becomes a pretty fucking racist and misogynistic way of thinking about lead characters.
References
↑

Seppala, Timothy J. (2013-05-15). "Remember Me creative director discusses gender equality". Shacknews. Retrieved 2014-01-12.

↑

Sophie Prell (3/18/13). "How Facebook inspired Remember Me to drop global warming, and why its protagonist had to be a woman". The Penny Arcade Report. Archived from the original on 2013-12-11. Retrieved 2013-05-14.

↑

Hillier, Brenna (2013-05-07). ""Believable": designing Remember Me's Nilin". VG247. Retrieved 2014-01-12.

↑

Corriea, Alexa Ray (2013-05-31). "Remember Me creative director explains the evolution of Nilin's design". Polygon. Retrieved 2014-01-12.

↑

Yin-Poole, Wesley (2012-08-21). "So, who's the Remember Me voice actress?". Eurogamer. Retrieved 2014-01-12.

↑

Charles Webb (April 30, 2013). "Interview: 'Remember Me' Composer Olivier Derivere". MTV.com. Retrieved 2013-05-14.

↑

Edge Staff (3 June 2013). "Remember Me Review". Edge (magazine). Retrieved 03-06-2013.

↑

Ben Reeves (3 June 2013). "Remember Me: A Fun Adventure, But Not Entirely Memorable". Game Informer. Retrieved 03-06-2013.

↑

Speer, Justin (3 June 2013). "Remember Me Review". GameTrailers. Retrieved 2013-06-03.

↑

Gies, Arthur (2013-06-03). "REMEMBER ME REVIEW: PAST IS PRESENT". Polygon. Retrieved 2013-06-03.

↑

Kevin VanOrd (3 June 2013). "Remember Me review". GameSpot. Retrieved 03-06-2013.

↑

Bramwell, Tom (3 June 2013). "Remember Me review". Eurogamer. Retrieved 03-06-2013.

↑

Narcisse, Evan (2013-06-04). "It Doesn't Matter That Remember Me's Main Character Is a Black Woman". Kotaku. Retrieved 2014-01-12.

↑

Akerman (2013-06-03). "Remember Me Review". VideoGamer.com. Retrieved 2014-01-14

↑

Sterling, Jim (2013-06-03). "Review: Remember Me". Destructoid. Retrieved 2014-01-14.

↑

Welch, Hanuman; Lowe, Kyle; Rougeau, Michael; Haske, Steve (2013-12-22). "The Worst Video Games of 2013". Complex. Retrieved 2014-01-14.

↑

Hillier, Brenna (2013-07-11). "Remember this? The sad dumbing down of Nilin". VG247. Retrieved 2014-01-12.